Disney Lorcana: Rise of the Floodborn Starter Deck Event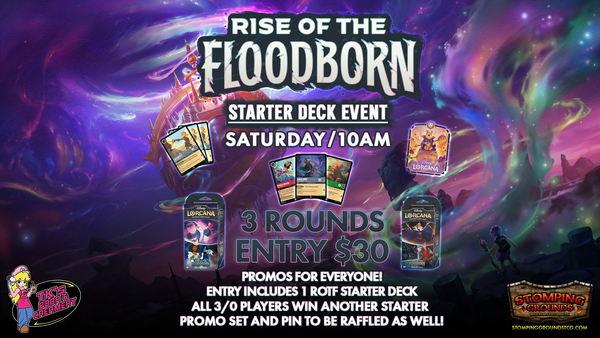 Event Date: November 18th - 10am
REGISTRATION INCLUDES:
1 Entry Reservation
1

 

Cinderella - Knight in Training Promo
1 Starter Deck from Rise of the Floodborn
1 Raffle Entry for event raffle (1 Minnie Mouse - Wide Eyed Diver Promo, 1 Bucky - Squirrel Squeak Tutor Promo, 1 Robin Hood - Capable Fighter Promo, 1 Winnie the Pooh - Hunny Wizard Pin)
PRIZING:
All 3/0 Players: 1 Additional Starter Deck (Opposite variant of one used in event)
EVENT DETAILS:
The Floodborn Rise! This event will have 3 swiss rounds with best of 3 matches, each lasting 50 minutes. Each player will be receive a Rise of the Floodborn Starter deck, which contains a booster pack that can be used in the deck for the event! Every player attending will receive promos, as well as a raffle entry into the raffle contest. Players that win a raffle prize will be removed from the raffle pool, meaning 4 lucky players will win! League points will be tallied up during this event, and tracked throughout the rest of the league, so be sure to bring your Disney Drip! This event will be hosted at TK's Boba & Creamery on 500 E Windmill Ln, Ste 170.