Flesh & Blood: Armory Blitz Preconstructed Event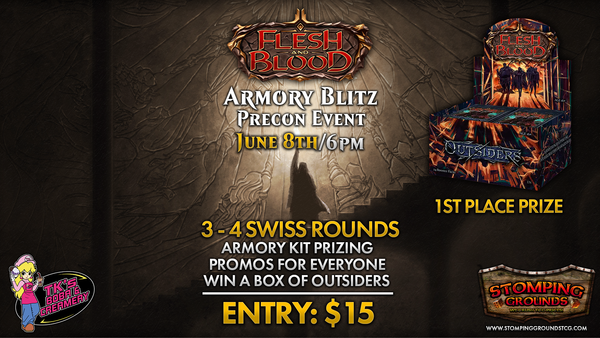 REGISTRATION INCLUDES:
1 Entry Reservation
1 Promo Card
1 random History Pack 1 Preconstructed Blitz Deck
Access to Armory Prizing
Chance to win a box of Outsiders
EVENT DETAILS:
Join us for Armory Blitz Preconstructed! This event will have 3-4 swiss rounds, each lasting 30 minutes. Each player will receive a randomly selected History Pack 1 Preconstructed deck of 40 cards, which will be used to fight their way to the top of the event and earn additional prizing! Every player attending will receive a promo, 3XP per win, and will be eligible to win Armory prizes. First place will receive a booster box of Outsiders as well! This event will be hosted at TK's Boba & Creamery on 500 E Windmill Ln, Ste 170.
CLICK BELOW TO REGISTER
Event Registration is Online Purchase only, online registration will be available until June 8th – 6pm, in store registration is NOT AVAILABLE*
No outside food or drinks allowed*
No smoking in venue*