Flesh & Blood: Bright Lights Prerelease Event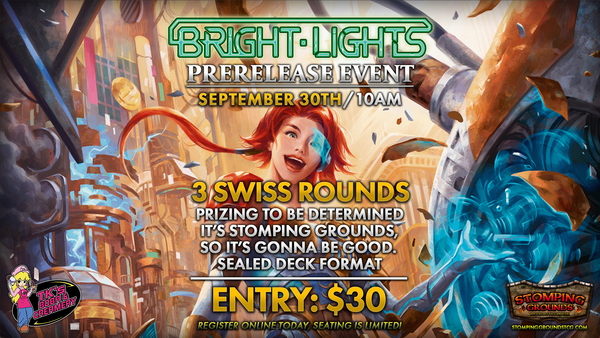 Event Date: September 30th - 10am
REGISTRATION INCLUDES:
1 Entry Reservation
4 Bright Lights Booster Packs to Build With
2 Bright Lights Participation Booster Packs (Given out at end of event)
PRIZING:
To Be Determined...(It's Stomping Grounds, it's gonna be good.)
EVENT DETAILS:
Bright Lights inbound! This event will have 3 swiss rounds, each lasting 30 minutes. Each player will be given 4 Bright Lights booster packs, used to build a 30 card minimum, 40 card maximum deck. Every player attending will also receive 2 bonus packs at the end of the event for participation! Additional prizing to be determined, but it's Stomping Grounds so you know it's gonna be good. This event will be hosted at TK's Boba & Creamery on 500 E Windmill Ln, Ste 170.