Flesh & Blood: War of the Monarch Prerelease Event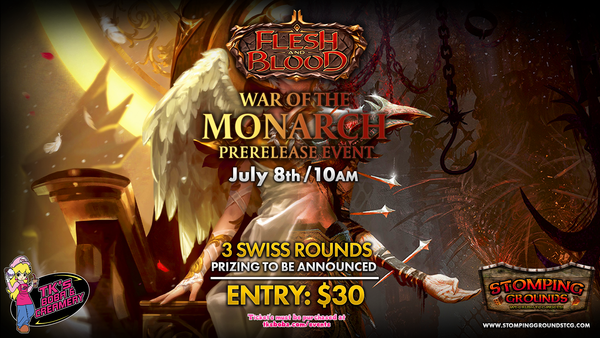 Event Date: July 8th - 10am
REGISTRATION INCLUDES:
1 Entry Reservation
Prizing to be Announced
EVENT DETAILS:
As dusk consumes the day, the Demonastery's otherworldly Shadow hordes tear through the dimenxxional rift, hellbent on the destruction of Solana. Yet in their darkest hour, allies emerge in unity alongside the valiant defenders of Light, in hope of once more seeing in the break of dawn.
War of the Monarch is a prerelease event organized to celebrate the release of Dusk Till Dawn. This event will be drafting the original iconic Light/Shadow set, Monarch packs! War of the Monarch is an opportunity for all players, new and old, to dive into this exceptional limited format. Players who qualified for their respective 2023 National Championships can also get the chance to practice drafting Monarch and hopefully learn some valuable insights!
War of the Monarch is a fantastic way to get up to speed with the characters and lore of Flesh and Blood, as the story arc lies at the heart of Rathe, with Dusk till Dawn being a pivotal moment that changes everything...
This event will be hosted at TK's Boba & Creamery on 500 E Windmill Ln, Ste 170.
CLICK BELOW TO REGISTER
Event Registration is Online Purchase only, online registration will be available until July 8th – 10am, in store registration is NOT AVAILABLE*
No outside food or drinks allowed*
No smoking in venue*